How and where to start yoga at home
They say that self-love is a movement towards harmony. I do not know about you, but I had a tug with harmony – every day I saw my reflection in the mirror, and it only caused me torment. Pale, constantly with circles under the eyes, painfully thin from perpetual unhealthy snacks and lack of any physical exertion …
The best way to learn something is to reading book through the book we learn many information. So, the lot of books are there to guide How to do yoga correctly. To buy a one of the best book for yoga click this link.
A sad picture, but that was – it was. In my dreams, I was strong, joyful, positive, and most importantly – beautiful and healthy. Having weighed all my desires, I decided to learn how to start doing yoga.
Why yoga at home
Yoga helps to harmonize the body and thoughts, to find peace of mind and improve well-being. I think everyone knows about this. Yoga at home – no worse than other options, there are many programs and courses for beginners who would like to study at home on their own – with their help you can learn to perform asanas at home.
I wanted to learn from the very beginning what yoga is, why it is needed, and what results I can achieve at home on my own. In fact, for yoga you need a little – a little space, a good rug, comfortable clothes. I added fresh air from the window and quiet quiet music with the sounds of nature.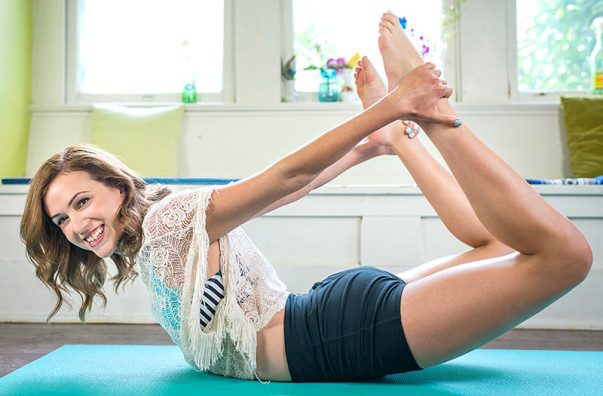 A good yoga mat I had, as usual comfortable knitted pants with a T-shirt, which means that I was close to winning over myself and began to choose the kind of yoga that suits me.
Types of Yoga
There are several directions, they differ according to the results, principles, and approach. For example, there are types of yoga that will help improve the figure.
Dynamic, energetic types of yoga:
ashtanga-vinyasa – here it is necessary to move very quickly;
kriya yoga – here it is necessary to spend in each asana a certain amount of time;
classical hatha yoga implies the work of the whole body;
Iyengar passes at a more relaxed pace, and you can compare it with strength training;
there is also a new direction, yoga-23 – classic asanas in combination with martial arts practitioners.
You can also pay attention to other types of yoga – for example, those that you can do to improve mood and psychological relief . At home, this can be:
kundalini, which reveals the inner needs of the body;
yoga-nidra, which teaches pranayama – special breathing exercises and helps to overcome stress;
Sivananda Yoga is an excellent option for studying at home and for beginners.
There are also other types of yoga, I only talked about those that seemed interesting to me and not too difficult to perform at home. I decided to study at home for the reason that my schedule does not always allow me to travel somewhere to classes, but I can always allocate half an hour or an hour to do it myself.
Where to start classes at home
How do you practice yoga if you have never done this? I found several courses for beginners, downloaded them and thoughtfully chose the one that I like. I do not give the names here – you can choose any course for beginners that will satisfy you. I liked the approach of the coach, I felt that the person on the other side of the screen was trying to convey for me not only the technique of correct execution of certain asanas, but also taught me to breathe properly, stay calm and watch my thoughts.
Any classes at home require regularity, and I decided to just get up every day forty minutes earlier, in order to have time to work out. Correctly or not, I did not know, but then it turned out that it's right, yoga practice should be regular, and morning exercises affect positively on well-being and allow you to keep yourself toned every day.
How long should the lesson last
Specialists in yoga for beginners are recommended to practice regularly, and at the same time do not overload the body. Classes need to be organized in such a way that they give pleasure, not inconvenience. Of course, I immediately decided to do everything right. At first it seemed to me that I had to practice a couple of times a week, but then I read in an interview with one of the masters that it's better to practice every day – it's more reasonable and useful.

When drawing up a schedule of trainings, it is necessary to take into account various factors, ranging from congestion during the day and ending with the dynamics of your work week. You should set yourself only real time – if you set yourself a goal to practice every day for two or three hours, then very quickly fail and be upset. It is better to start with more simple training – you can always increase the time of classes if you want.
How to choose a place to study at home
You can do yoga at home if you have a suitable place. It should be clean and quiet, it is necessary to maintain a comfortable temperature. I live alone, so I chose my own bedroom as a place of study – there is a very calming color of the walls. In order for classes to be comfortable, it is better to turn off the phone and drive the animals out of the room.
I also read that it is very important for beginners to engage in silence. Unfortunately, it seems to me not very convenient – I always hear strange sounds, and it often prevents me. Therefore, my version is accompanying music, sounds of nature. The soundtrack adjusts to the desired mode.
And of course you need to be clean. First, it is important purely from the emotional point of view. It is difficult to achieve harmony by lying on the floor in the middle of a mess.
What else to consider
Different yoga courses for beginners usually give a lot of practice, and it's good – the sooner a person learns the basics, the faster he will learn to work with himself and with his body. So it will come to harmony faster. But I believe that the theory in these matters is very, very important. It is necessary at least superficially to get acquainted with what the asanas give, and how it works in general. To many of the beginners this seems superfluous – no, it's really useful.
Yoga allows you to smoothly and accurately move from your usual, ordinary state – both physical and spiritual, to a more enlightened and advanced one. How does this affect life? Life is changing dramatically. A person becomes more developed physically, more intelligent. Improves self-control.
In the practice of any practitioner, systematic importance plays a big role. If you do something regularly, it densely enters life. It is best to practice before eating – after classes you can eat in a couple of hours. The lesson has an effect on peripheral circulation, it is not necessary to be engaged during illness – if the temperature is high or any chronic diseases have become aggravated. It is also worthwhile to refrain from engaging in activities if you have taken alcohol or other medications. Yoga accelerates all metabolic processes in the body, so it is not worth it to study before bed.