Falling asleep is a sensitive moment: it is pleasant when we feel sleep coming, feeling when it does not come. The full awareness, or mindfulness , offers solutions to address bedtime relaxed manner and improve the quality of your sleep. Here are 6 steps that will help you fall in the arms of Morpheus …
1. Prepare to fall asleep
With meditation mindfulness , you can train yourself to sleep better and feel immediate benefits. For this session we advise you to settle in a quiet place, away from agitation or any distraction.
You can practice this exercise directly from your bed or before bedtime during the day. The intention is not to sleep but to promote sleep.
2. Welcome the flow of thoughts
Sit comfortably, close your eyes. Observe if your mind is restless or peaceful. While letting your mind wander, be aware of the different points of contact of your body with your bed or your chair.
3. Take a breath
During this session we invite you to voluntarily breathe through your stomach. You can, if you wish, put a hand on it to feel it inflate and deflate.
4. Visualize your bedtime ritual
At this stage, comes the moment to project yourself mentally a few moments before bedtime. You surely have a ritual. Visualize each step. Maybe you go to the bathroom to change clothes or cool off? Or do you prepare an infusion of plants? Do you listen to some soft music notes? In the end, it does not matter: the important thing is to be well aware of each step that composes it.
5. Welcome sleep
Comes the moment to join your bed. Lie down and feel the weight of your body on the mattress. Is the mattress rather hard or soft? And your sheets? What is their texture, their temperature, their smell?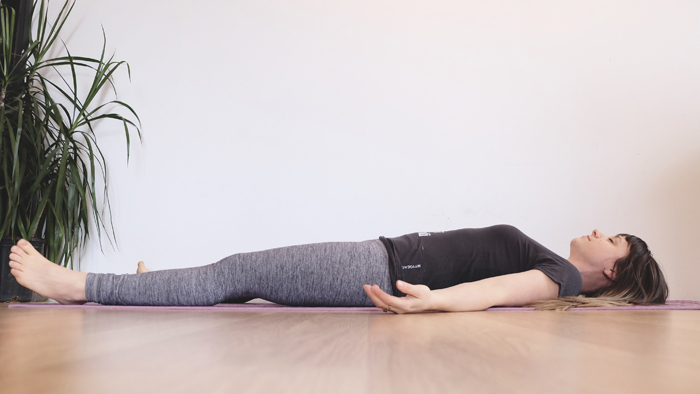 You are now settled in your favorite position for falling asleep. You become aware of the position of your body and the weight of your head on the pillow. Your eyelids are becoming heavier. Visualize your eyes close. Your breathing is slow and your body is totally relaxed and heavy. Your heart rate is slowing down. You sleep deeply. At this moment, let emerge a soothing image, a situation, a landscape, what comes to you.
6. Pay attention to wake up
Visualize now the moment of the awakening and find the sensation of your body which gradually becomes again tonic. You feel your heart rate and your breathing speed up. Perhaps you even feel the urge to stretch. You visualize yourself opening your eyelids and making contact with what surrounds you, before sitting on the edge of the bed.
Always taken in your visualization: just before you get up, let emerge an intention or a positive project that you wish to lead during the day.
Once this visualization is over, you come back to the awareness of your breathing here and now. Then when you want, open your eyes again.
After the session, take a few minutes to take stock with a few simple questions:
How do you feel ?
In what state of mind ?
What physical state?
Try to verbalize or describe your impressions, everything that comes to you in the moment: images, colors, smells, feelings, thoughts.
To train and support your sleep, download the Mindful Attitude app for free and listen to the "Falling asleep" session.